There's sure to be a playground nearby anywhere you go in Toowoomba! Here are nine of the best.
1. Queens Park – Lindsay Street playground area
Opposite 62 Lindsay Street, Toowoomba
Catering for toddlers to pre-teens of all abilities, this playground is a favourite of many in Toowoomba. It includes a wheelchair-accessible fort, textured dome climbing structure, huge accessible musical chimes, digger, an inclusive orbit (accessible rotating platform), slides, toddler swings and much more. Kids love bumping down the conveyor slide and trying to race back up. Keep an eye and hand out for the learning braille panel as well!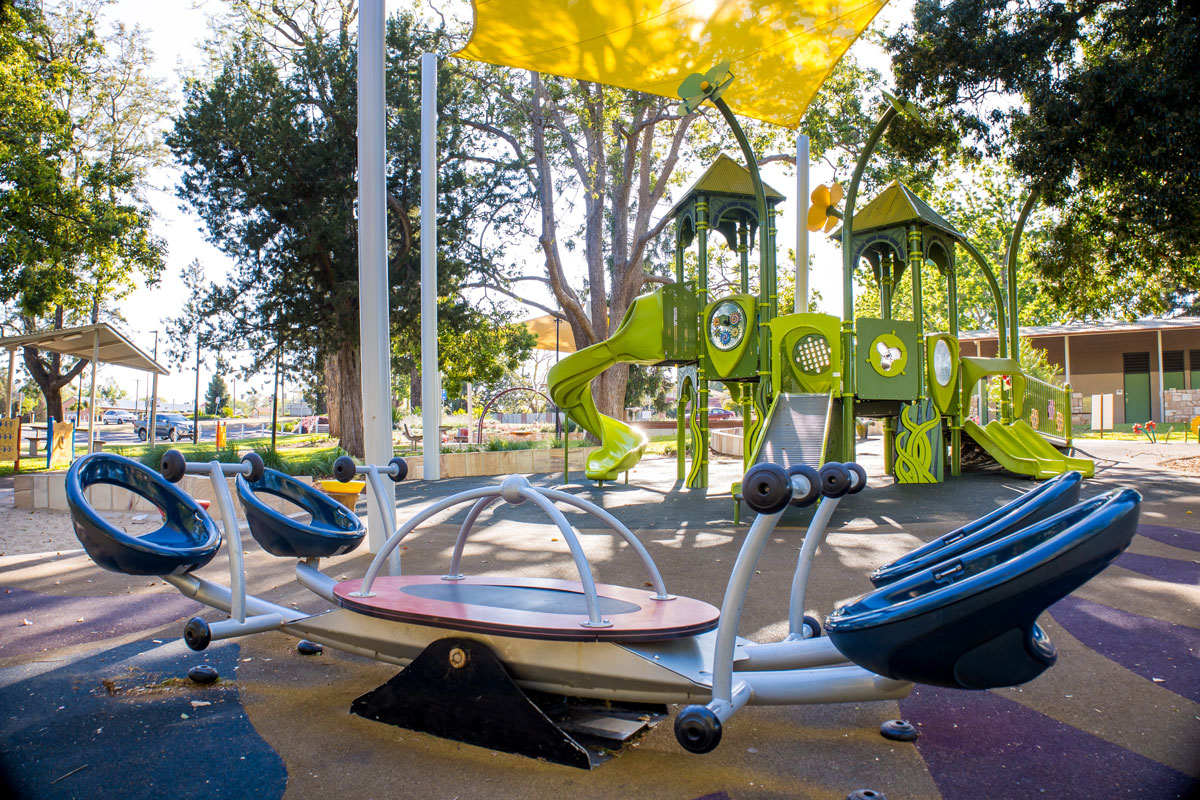 2. Queens Park – Margaret Street playground area
Opposite 92 Margaret Street, Toowoomba
Toddlers and younger children love the smaller naturally shaded play area in this section that includes a train, merry go round, swings and small slides. You might even find some fossils in the large sandpit!
Right next-door, older children and teens can experience some adventure on the seven-metre high climbing structure that provides hours of fun and a huge flying fox. Other unique play equipment scattered around this side of the park is guaranteed to delight, including a human-sized hamster wheel!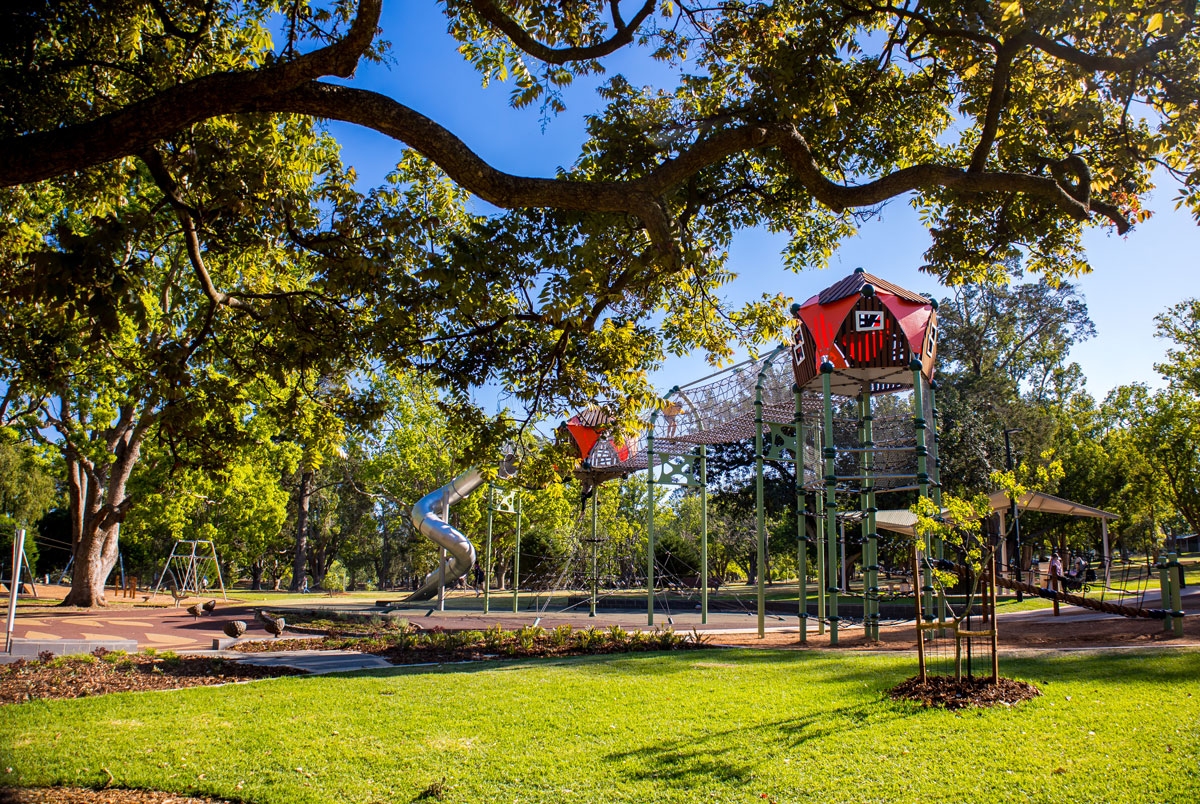 3. Picnic Point – Lions Park
162-164 Tourist Road, Rangeville
Lions Park is located north of Tourist Road and is considered part of Picnic Point Parklands. It has a mix of play equipment for children and young people including a practice tennis wall and exciting climbing structures such as a giant octopus. The large rocket ship slide for older kids is also a great feature.
Every Sunday the Lions Club runs Happy Harry Train Rides for young children from midday to 3pm each Sunday (weather permitting). Participants can provide a gold coin donation for this service which goes to the Lions Club.
Along with shaded picnic facilities, barbecues, picnic tables and a shelter, this park also provides access to some attractive walks through the Picnic Point Bushland Reserve.
4. Picnic Point – Heller Street Park
Rowbotham Street, Rangeville
Come and be enchanted by this themed playground, a popular location for families and birthday parties. Great for kids 5 years and over, the two quirky play zones 'The Magical Witches Forest' and 'Old Smithy' are the stars of the show. A flying fox, swings, sand, slides and plenty of open space for kicking a ball around add to the fun.
Amenities include off-street car parking, free BBQs, large gazebos, picnic tables, toilets and a Scout hall right next door.
5. Lake Annand
Parking on Bright Street, South Toowoomba
Apart from being a beautiful spot for a picnic, Lake Annand has a huge playground and sandpit area. Highlights include a wooden pirate ship, rock climbing wall and large all-abilities rocker suitable for wheelchairs.
The park has large and small gazebos, water features, toilets, barbecues and inter-connecting paths great for bikes and scooters. The shallow lake has lots of birdlife for kids to enjoy as well. The parking area at the end of Bright Street provides the best access to the main playground area.
6. Laurel Bank Park
50 Hill Street, Toowoomba
Laurel Bank Park is another of Toowoomba's showcase gardens, which features gorgeous displays year-round. Its playground is suited to children 3 and over and includes slides, small rock-climbing walls, nets and more. Explore the park with your little ones and you will find a hedge that has been transformed into Thomas the Tank Engine, a large water feature and a scented garden. Its huge lawns are perfect for picnics and kicking a ball around or playing frisbee.
Amenities include undercover free BBQ area, toilets, seating and shady trees. There is parking on site from the Hill Street entrance as well as on street parking on Herries Street.
7. Webb Street Park
12-40 Dudley Street, East Toowoomba
Ever popular with families, this park features amazing views of the Toowoomba Range Escarpment.
Its three main playground areas are suitable for toddlers to teenagers. If you have older children they will love the steep, mega slippery-slide that includes nets and ropes to climb to the top and the flying fox. Little ones are also catered for with a merry go round and swings.
Curved around the beautiful panoramic views of the distant Main Range, Webb Park features a picnic shelter, barbecues and toilets for the convenience of park users and provides the perfect spot for barbecues, picnics and get-togethers.
8. Peacehaven Botanic Park
56 Kuhls Road Highfields (15 mins drive north of Toowoomba CBD)
This nature inspired adventure playground is an absolute delight. Kids can spend the day excavating a dinosaur skeleton in the huge sandpit, climb a giant Crows Ash seed pod, slide on the slippery dip and so much more. A highlight is the water pump that kids can use to create their own little creek, a nice way to cool off on a hot day. While you're there, explore the more than 400 different species of native plants and scores of birds and wildlife in this 4.7 hectare park. Follow the meandering path down to the nature play area which is a short walk from the parking area and discover why locals and visitors of all ages love Peacehaven.
Amenities include picnic tables, free BBQ facilities, park seating, open lawn area, toilet facilities, onsite parking for cars and buses, and wheelchair accessible areas and facilities.
9. Newtown Park and Queensland State Rose Garden
Pottinger Street, Newtown
After you've stopped to smell the roses in the award-winning State Rose Garden, check out the children's play area at Newtown park, located on the Pottinger Street side.
The main playground area of the park has a large range of play equipment, including interesting rope climbs, swings, slides, monkey bars and seesaws that would suit from toddlers to pre-teens. Newtown Park covers 30 acres (12ha) and has cricket fields, croquet lawns and a half basketball court so there is plenty of space to run around. Amenities include free BBQs, covered picnic areas and toilets.
For personalised service and tips by friendly knowledgeable locals, be sure to drop into one of the local Visitor Information Centres or give them a call.