Toowoomba is known as Queensland's Garden City – and what better way to experience it than in one of our more than 150 parks! Here we list seven showstoppers that delight locals and visitors all year round.
These beautiful parks showcase the seasons unlike anywhere else in Queensland. In Toowoomba, you'll discover crisp winter air, knee-deep autumn leaves, clear summer days and a riot of colour in spring.
Perfect for picnics, weddings, BBQs, photography and more – check out one of these parks today!
Queens Park and Botanic Gardens
Location: 43 Lindsay St, East Toowoomba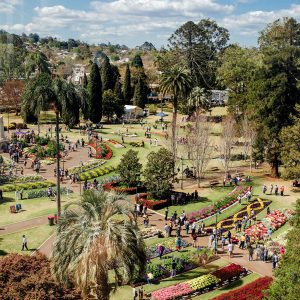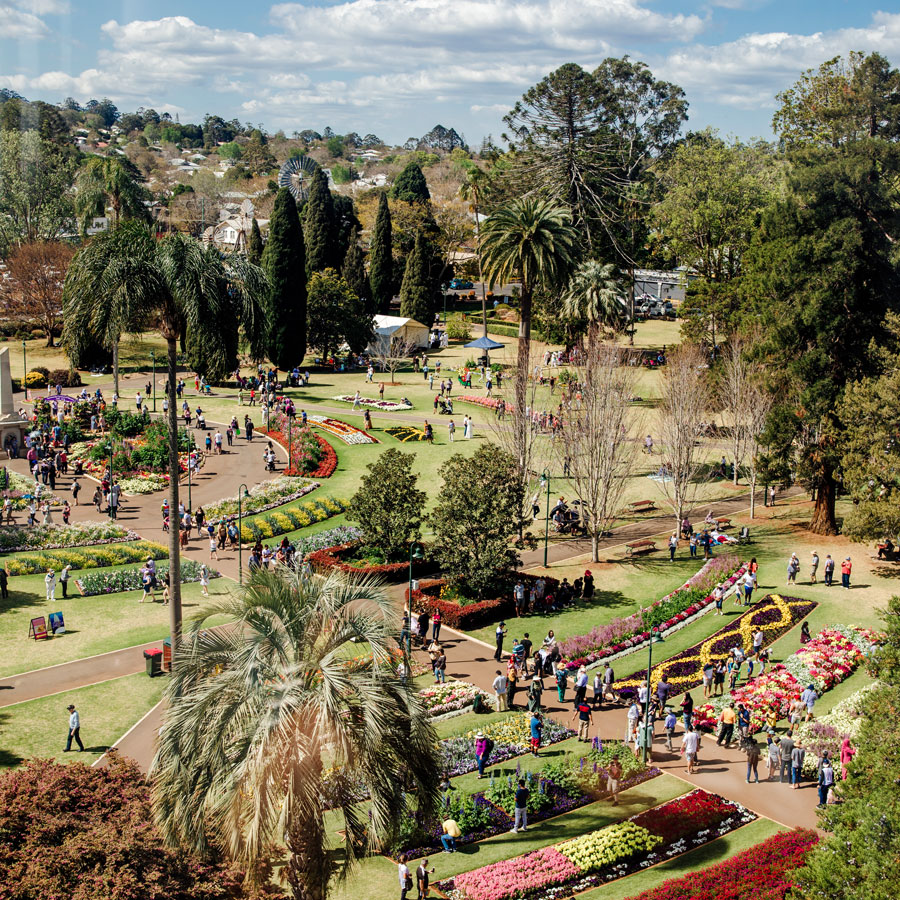 A stroll through the State Heritage listed Queens Park and Botanic Gardens is an absolute must for any visitor to the Garden City.
Covering more than 25 picturesque hectares, the parkland has been enjoyed by generations of locals and regional visitors since it first opened to the public in the late 1800s.
As one of the featured parks during Toowoomba Carnival of Flowers in September, spring sees the garden beds taken over by riotous colour and visited by thousands of tourists.
Autumn transforms the landscape into a rich tapestry of red and gold with the giant deciduous trees dropping their leaves in anticipation of winter when the parklands rest against a predominantly evergreen backdrop.
A kid's paradise, Queens Park features many unique and accessible play spaces that cater for toddlers to teens. It truly has something for everyone, with tree-lined avenues and woodlands, open space sporting ovals, an off-leash dog area and barbecue and picnic facilities throughout.
Visit the Queens Park and Botanic Gardens website.
Queens Park and Botanic Gardens historic walk
If you have an hour to spare, why not explore the fascinating history of Queens Park and surrounds using this online historical walk map. Discover some fascinating pieces of Toowoomba's past, including a café that used to be a hospital for female prisoners, the 1864 courthouse building and information about the many memorials throughout the park. Visit the Toowoomba Regional Council website for more information about local historic walks.
'Ju Raku En' Japanese Garden
Location: Lot 55 Regent Street, Darling Heights (Toowoomba)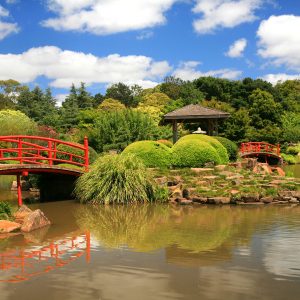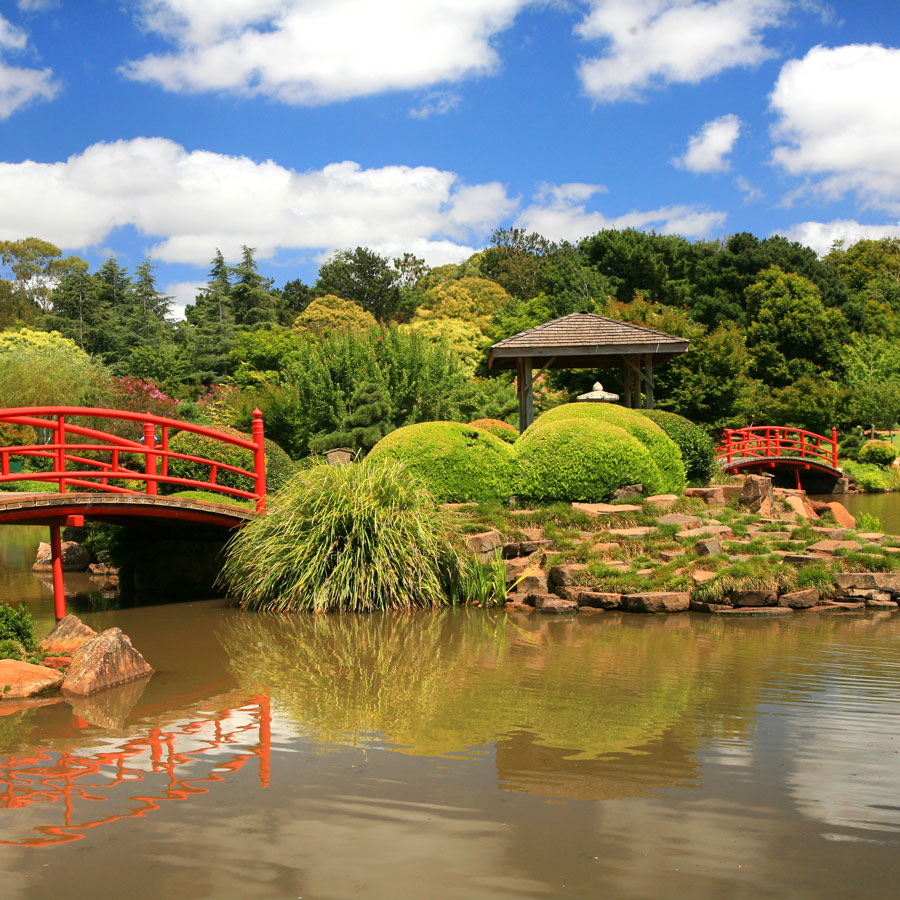 Discover the tranquility of one of Toowoomba's most peaceful and beautiful parks – the 4.5-hectare 'Ju Raku En' Japanese Garden at the University of Southern Queensland. Located on the northern side of the campus, it's Australia's largest traditionally designed Japanese 'stroll garden'.
Ju Raku En roughly translates as 'to enjoy peace and longevity in a public place.' Featuring a mountain stream and waterfall, dry garden, central lake, Azalea Hill, 3km of paths and 230 species of Japanese and Australian native trees and plants, it provides the perfect setting for a wedding, photography session or family picnic.
Japanese maples provide a riot of autumn colour, while in spring, masses of lilac blossoms hang from the wisteria pergola. The lake hosts bird species including swans, ducks, geese and smaller natives.
Visit the 'Ju Raku En' Japanese Garden website.
Laurel Bank Park
Location: Car park accessible from Hill St, Toowoomba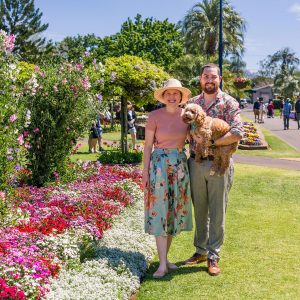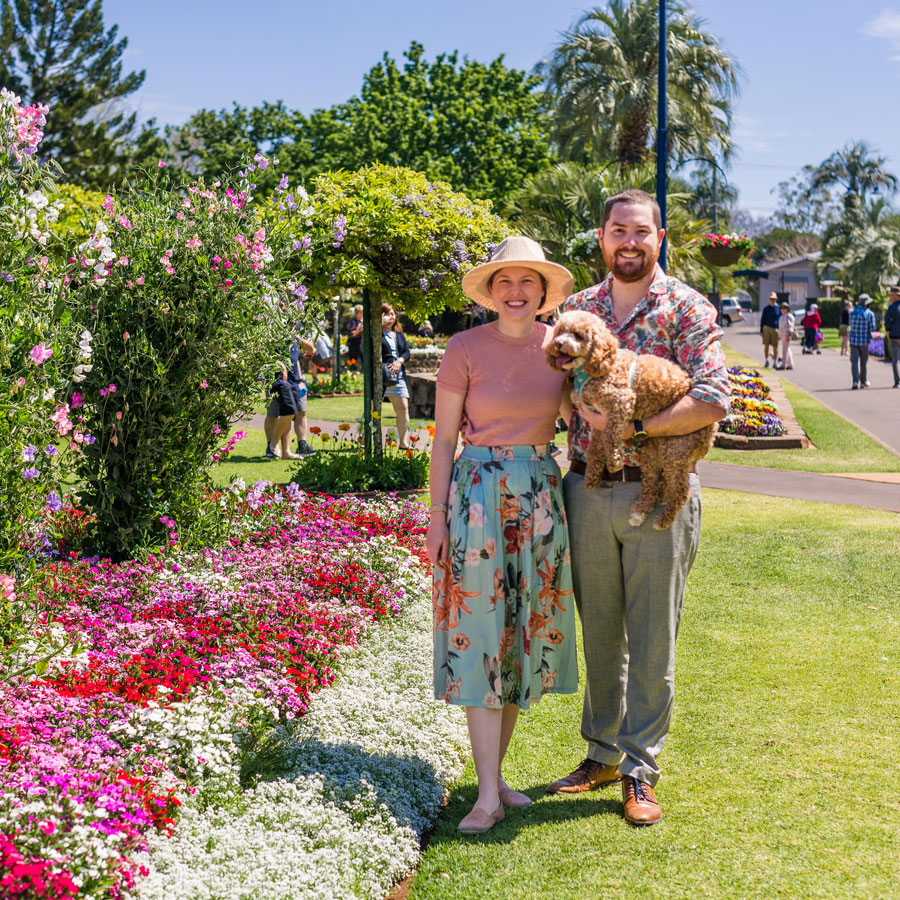 State heritage-listed Laurel Bank Park is one of Toowoomba's premier parks and provides a majestic oasis close to the heart of town.
It features manicured gardens, mature trees, children's play equipment, a sensory garden and water feature, barbecue and picnic areas and two croquet lawns. Its beautiful natural backdrop also makes it a favourite for wedding ceremonies and photography.
During Toowoomba Carnival of Flowers in September, its gardens come alive with spring colour and natural splendour. Meticulous planning and preparation by Toowoomba Regional Council gardeners ensure this is a memorable Carnival attraction, one which often includes an area specially planted out to depict a floral theme representing a significant local or national event. The full extent of Carnival plantings can be seen from the top of a viewing platform, which provides an aerial view of the display.
Laurel Bank Park History
Laurel Bank Park was privately owned by local resident Samuel George Stephens, who developed the beautiful gardens over almost 30 years. In 1932 Mr Stephens donated the land to the people of Toowoomba, making Council the official custodian. Mr Stephens was known as 'the man of flowers.'
Visit the Laurel Bank Park website.
Newtown Park & Queensland State Rose Garden
Location: Sealed car park accessible from Pottinger Street, Newtown (Toowoomba)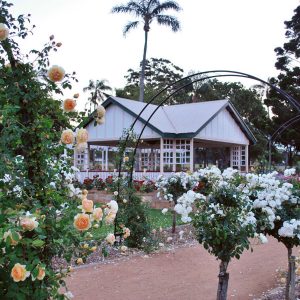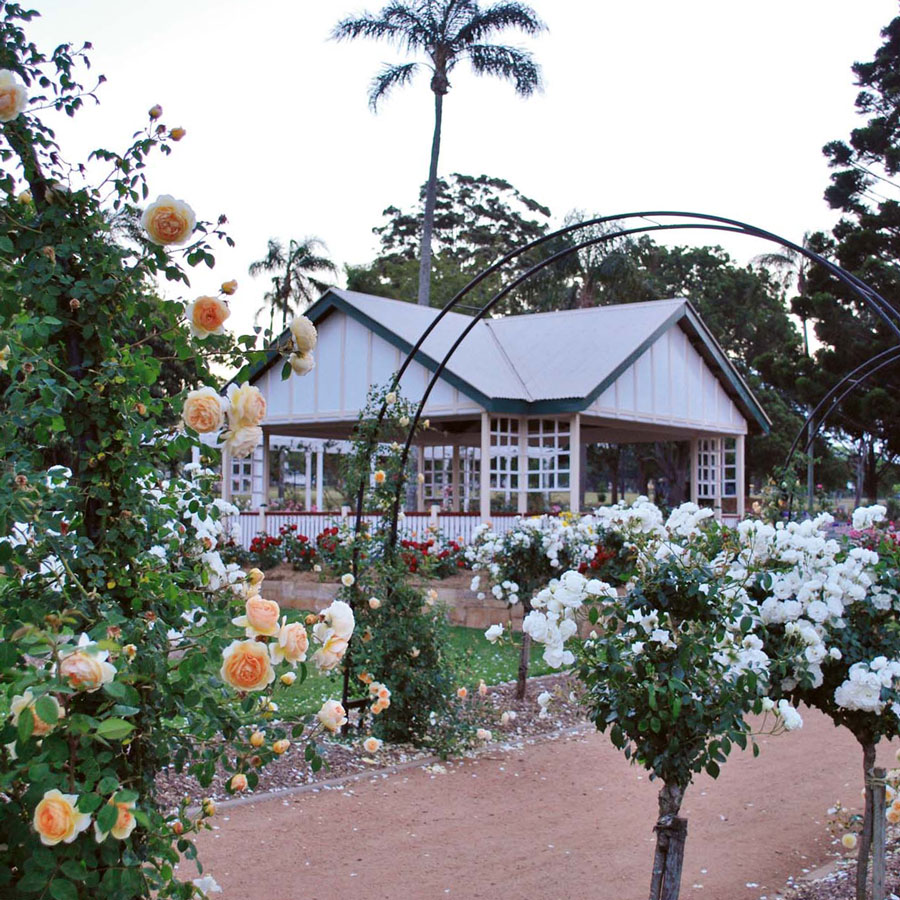 Newtown Park covers a huge area of 30 acres (12ha) and is an absolute must-see for garden lovers as it houses the award-winning Queensland State Rose Garden.
The rose garden contains more than 2000 roses and over 250 cultivars planted in various displays and collections. The peak months to see these blooms are October and November; however, the roses can be viewed from October through to April. You'll find the roses on the Holberton Street side.
The park also features a children's playground and barbecue area, sports ovals, croquet lawns, basketball court and cricket pitches. Several pathways link across the park alongside a collection of murals, plaques and rest areas dotted throughout for the enjoyment of park users.
Newtown Park History
Historical tours of Newtown Park are conducted once a month – check the park website for details on how to book.
The park has a long history of supporting war efforts. During WWI, the park was used extensively by the local citizen force, and the Militia and Darling Downs Light Horse units, including the 11th Light Horse Brigade, who used the park as their headquarters. During WWII twenty buildings were acquired for rest and recreation purposes by the American forces. Towards the centre of the park, there is a memorial to the 11th Light Horse Regiment and a memorial to war animals.
Visit the Newtown Park website for tour booking information and park details.
Picnic Point
Location: 162-202 Tourist Road, Rangeville QLD 4350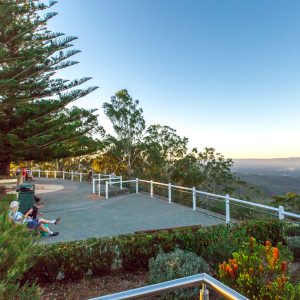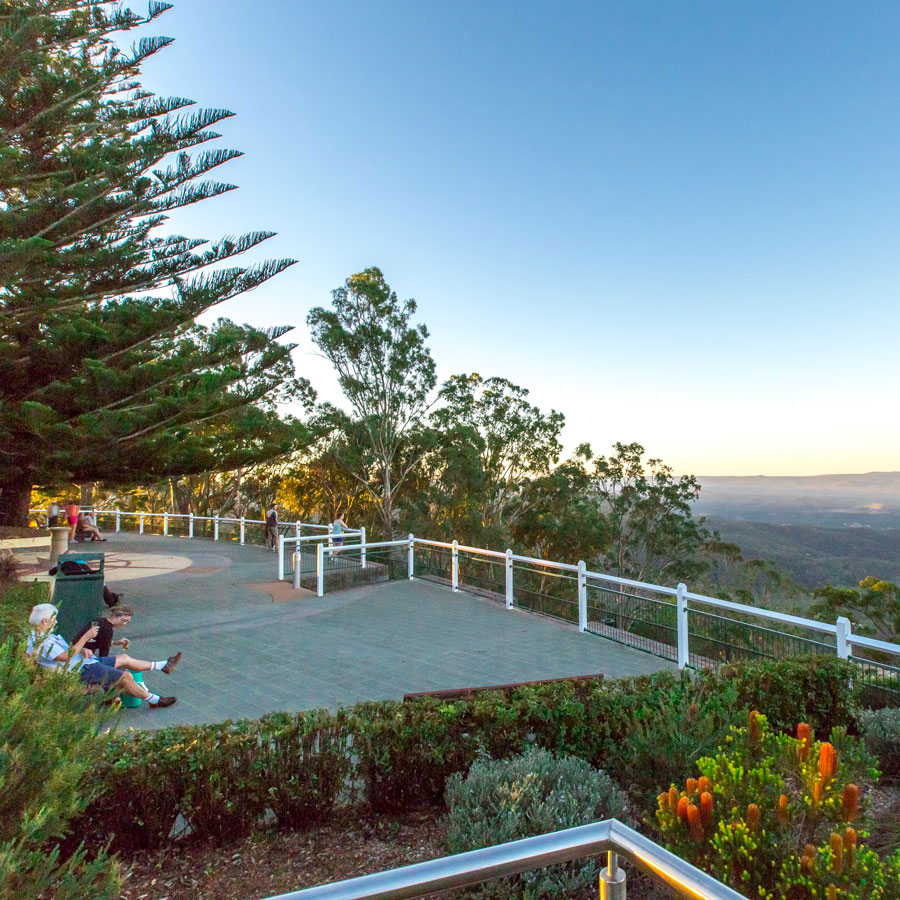 Picnic Point Parklands is a stunning, must-see location for visitors.
Just a short drive from the city's CBD, the State Heritage listed parklands are perched high on the crest of the Great Dividing Range.
Its iconic lookout provides breathtaking panoramic views eastward to the Lockyer Valley and Table Top Mountain (known as 'Meewah' to local First Nations people). Experience a spectacular sunrise at dawn or visit at dusk to see the glow of Brisbane's city lights come into view.
For adventurous visitors, there is a series of walking trails along the escarpment that offer a variety of interesting places to explore.
The parkland also features some of Toowoomba's most popular playgrounds for kids in Lions Park and Heller Street Park.
Visit Picnic Point Park's website.
Spring Bluff
Location: Murphy's Creek Road, Spring Bluff QLD 4352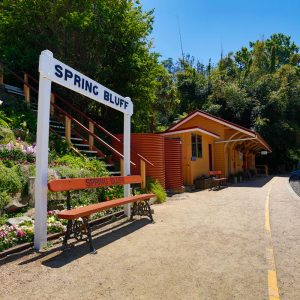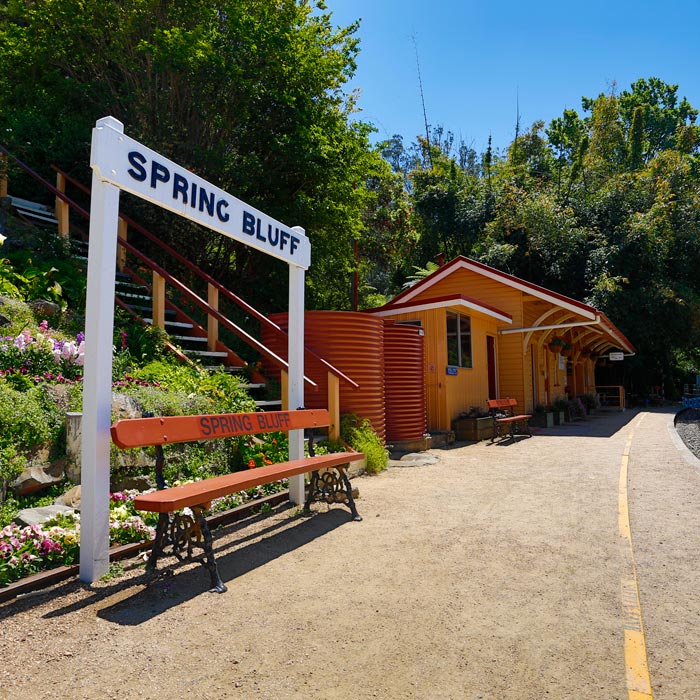 Heritage-listed Spring Bluff Railway Station is home to 150 years of railway history and beautifully landscaped gardens.
Nestled on the main railway line between Ipswich and Toowoomba, the splendour of the gardens will stop you in your tracks. During Toowoomba Carnival of Flowers thousands of visitors come to enjoy the magnificent plantings, with an array of poppies, ranunculus, stock, snapdragons, petunias and many other annuals bursting into colour in the warm sunshine.
The Spring Bluff Railway Station was built in the 1860s to allow trains a place to stop during the steep climb from Brisbane to Toowoomba. It was named Spring Bluff after the spring water and the sandstone bluff in the area.
Visit Spring Bluff Railway Station's website.
Peacehaven Botanic Park
Location: 56 Kuhls Road, Highfields QLD 4352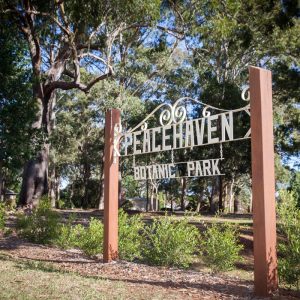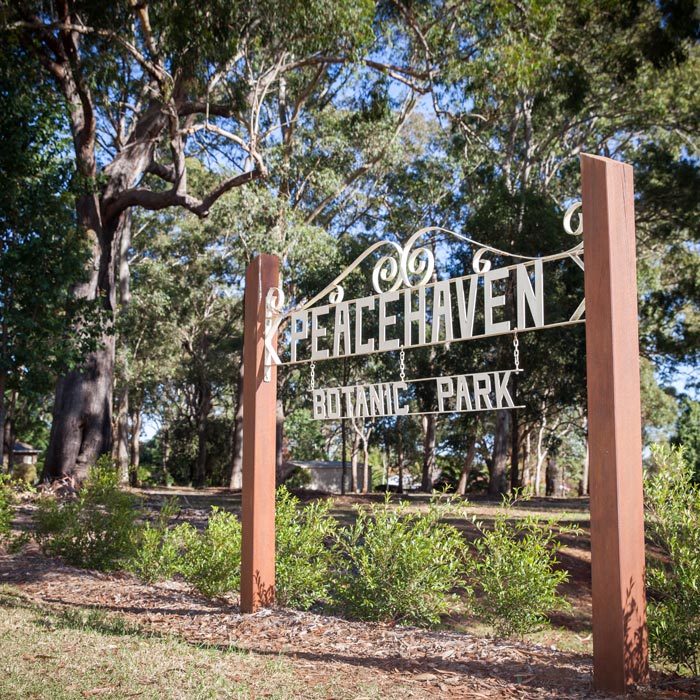 Peacehaven Botanic Park is located only 15 minutes drive north of Toowoomba's CBD at Highfields. The park has magnificent trees, established gardens and grassy areas, wheelchair-friendly pathways and stunning views towards the Bunya Mountains.
There are picnic tables, barbecue facilities, a grand rotunda, seating, open spaces, a nature-themed adventure playground for children and amenities for public use. The park is popular for weddings, family get-togethers, walks, picnics or bringing the kids to kick a ball.
Peacehaven Botanic Park history
Peacehaven exists today because of the generosity and far-sightedness of local dairy farmer Stan Kuhl. In 2004 Stan donated 4.7 hectares of land adjacent to his house to be developed into a botanic park.
Sadly, Stan died in 2005 before his dream was realised, but his vision lives on. The park was officially opened in 2006 and was expanded in 2012, increasing the total area to 5.4 hectares.
Visit Peacehaven Botanic Park's website.
For personalised service and tips by friendly knowledgeable locals, be sure to drop into one of the local Visitor Information Centres or give them a call.