Unravel the history of the Darling Downs by visiting these seven unique historical sites across the Toowoomba Region. From ancient Aboriginal ceremonial sites to haunted inns built by ex-convicts and the oldest operating woolshed in Queensland, these locations will inspire you to discover the region's rich heritage.
Cobb+Co Museum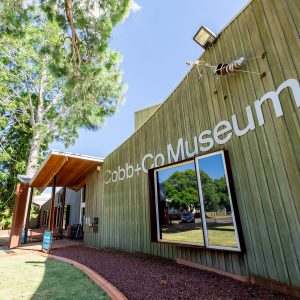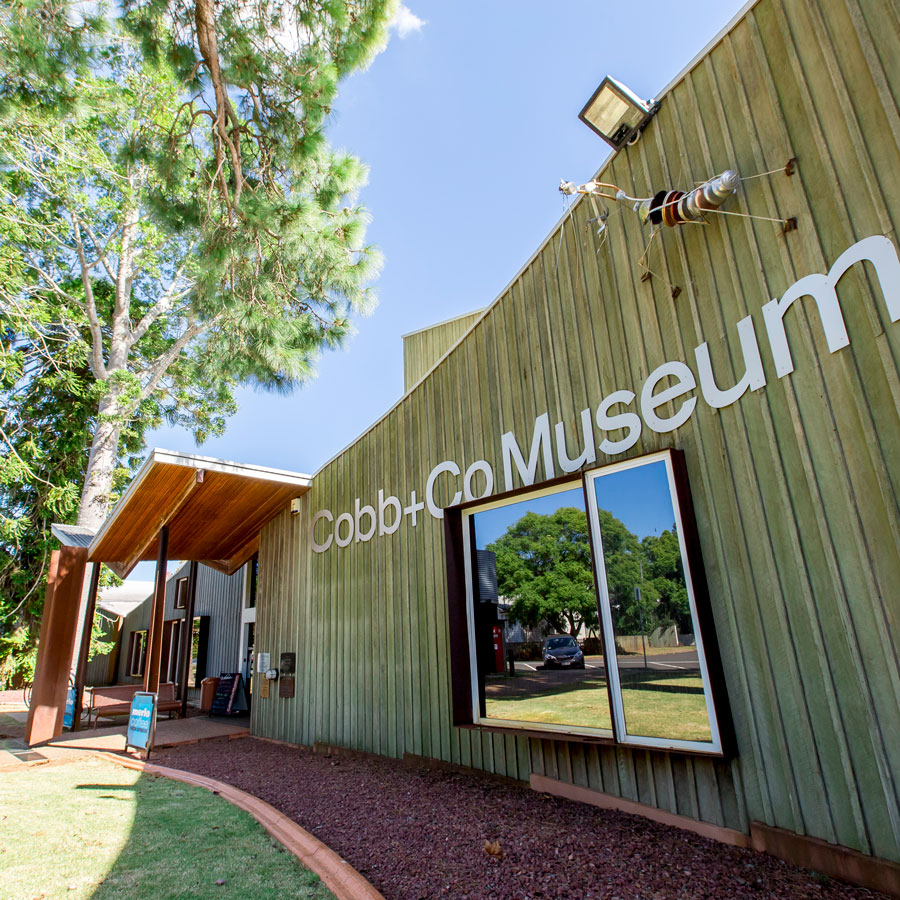 Step back in time to the era of horse drawn vehicles at Cobb+Co Museum, located just a short walk from Queen's Park's iconic Botanic Gardens.
Wander through the charming national carriage collection and discover how the 47 horse-drawn vehicles played an important role in Australia's development.
This modern, interactive facility is part of the Queensland Museum Network and also features extensive displays on the natural and cultural history of the region.
The precinct is great for families and has two designated play areas, one in the centre of the café where adults can supervise while enjoying a coffee, the other with a life-sized horse and carriage for kids to explore.
Check out their calendar of hands on workshops (ranging from 1-3 days) to learn heritage trades like blacksmithing, silversmithing, lead lighting and leatherwork.
Location: 27 Lindsay St, Toowoomba
Open hours: Open 7 days. Locals can enter free of charge.
View the Cobb+Co Museum website.
Gummingurru Aboriginal ceremonial site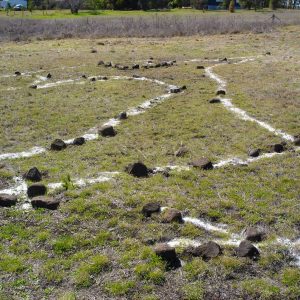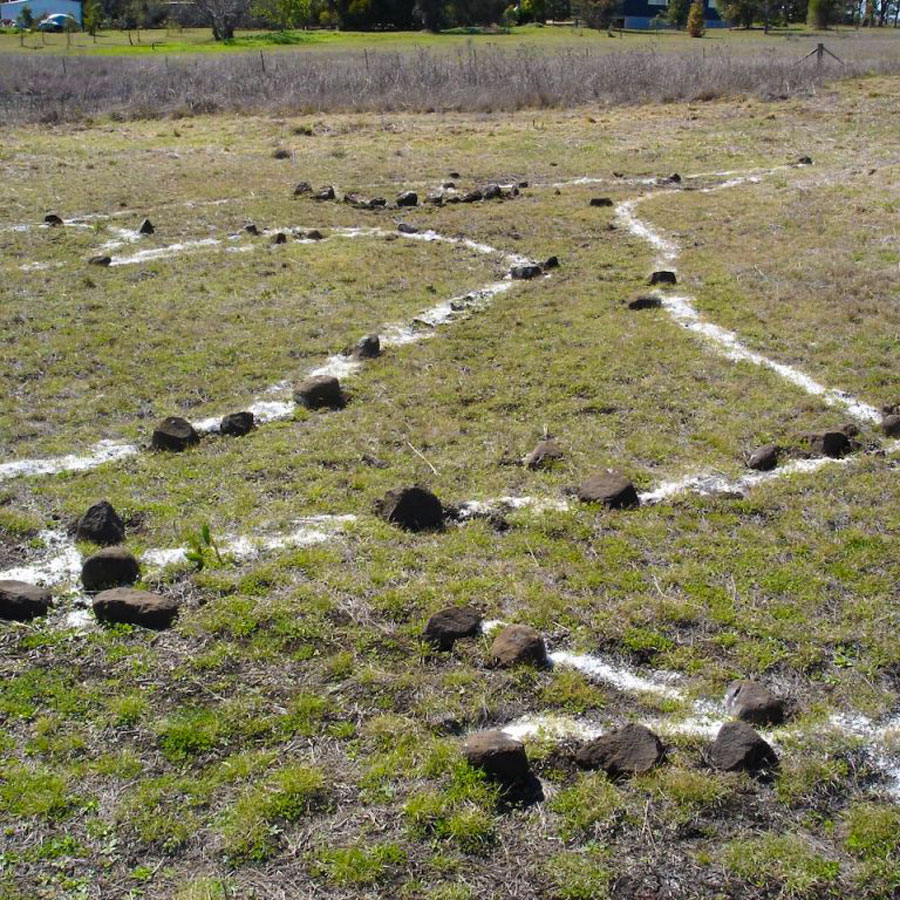 A truly unique heritage experience, Gummingurru is an ancient ceremonial site on the country of the Jarowair Aboriginal people. Located near the township of Highfields, 20 minutes' drive north of Toowoomba, it features amazing stone arrangements in a range of designs, including an emu, a turtle, a bunya nut and a carpet snake.
The site was used until the late 19th century to perform initiation ceremonies for young men on route to the Bunya Mountains for the Bunya Nut festivities and ceremonies held once every three years or so.
Gummingurru Aboriginal Corporation invites people to book a tour with a traditional custodian to understand the history of this significant site. Activities also include looking at stone artefacts found near the arrangements, grinding ochre and games for kids that tell the story of the site.
Location: Near Highfields, a 20 minute drive north of Toowoomba.
Open hours: By appointment only.
Details about how to book on the Gummingurru website.
Oakey's Australian Army Flying Museum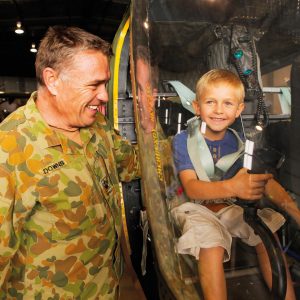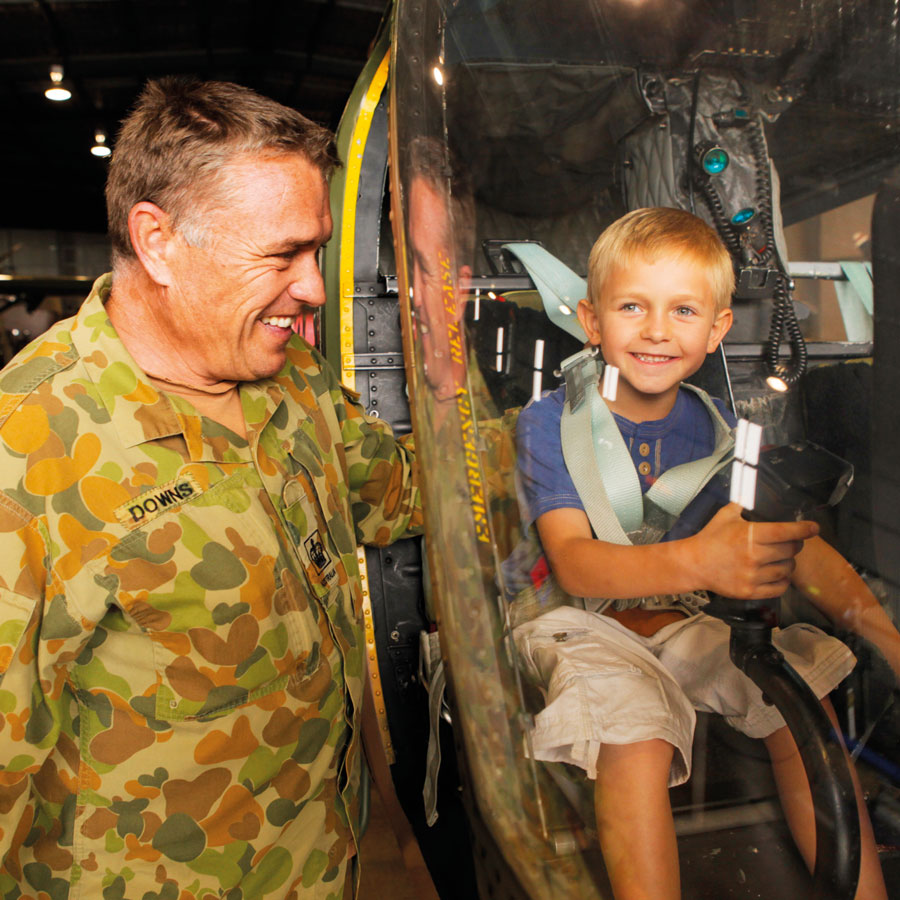 Located just 25 minutes from Toowoomba in the rural town of Oakey, this unique museum houses more than 20 aircraft flown by the Australian Army and related memorabilia from all eras of Australian military flying.
Some highlights include walking inside a heavy-lift Chinook helicopter, investigating a Blackhawk and viewing replicas of the three original aircraft first flown by military pilots in 1910-1912 – the Boxkite, Deperdussin and Bleriot.
There is also a section for kids to explore. If you have five or more people, phone ahead one week in advance and you can book a guided tour with one of the knowledgeable volunteers.
Location: Museum Drive, Oakey, QLD 4401, a 25 minute drive west of Toowoomba
Opening hours and prices available on the Army Flying Museum Website.
Royal Bull's Head Inn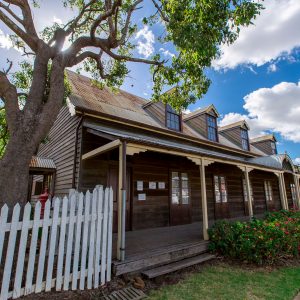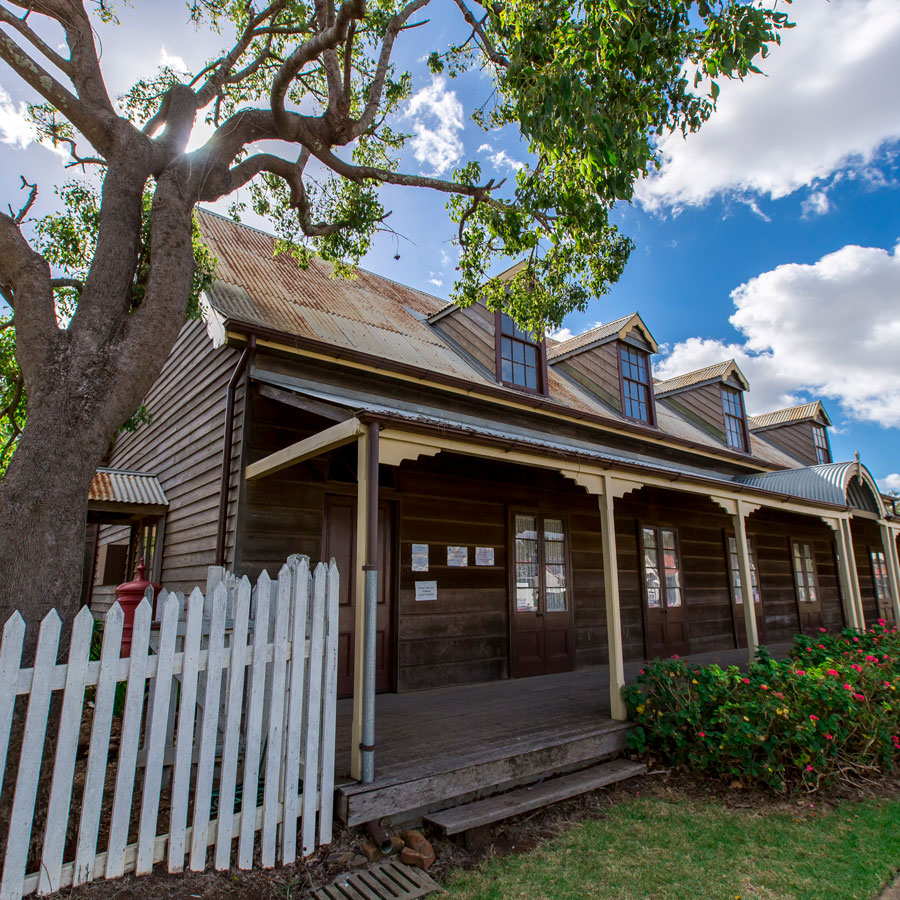 A visit to the Royal Bull's Head Inn offers a fascinating glimpse of what life was like in the region in the 19th century. Built by an ex-convict in 1859, it was acquired by the National Trust more than 40 years ago.
If you are passionate about the paranormal, book in for one of the monthly ghost tours. With the reputation of being the 'most haunted' building in Toowoomba, tickets always sell quickly.
Walk around the grounds and read the interpretive signs displayed or visit on the first Sunday of the month when volunteers open the building for visitors to explore inside. The Drayton self-guided historic walk also starts from the Inn.
Location: 59 Brisbane Street, Drayton (suburb of Toowoomba)
Open hours: Royal Bull's Head Inn website.
Rudd's Pubb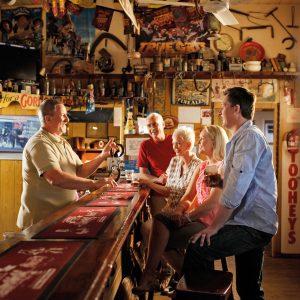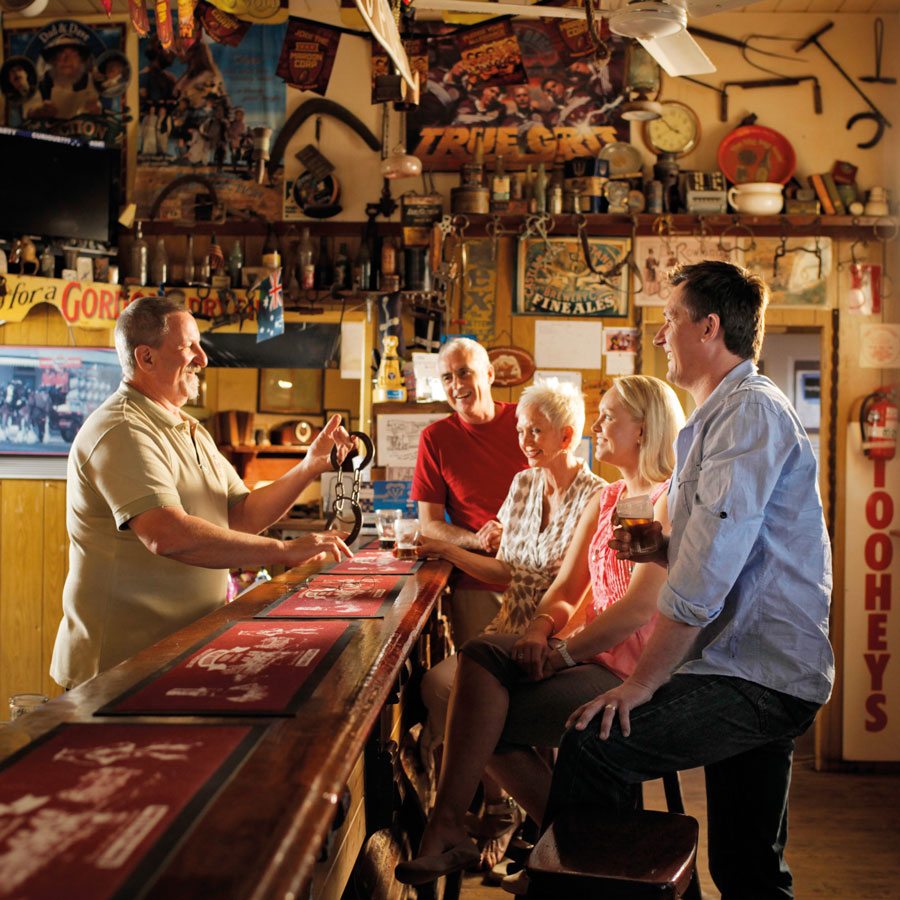 Visit this historic pub with plenty of atmosphere and interesting stories in the quaint village of Nobby, 40 minutes' drive south of Toowoomba.
Immerse yourself in the wonderful photographic collection and memorabilia that adorns the walls (and the ceiling) and enjoy a delicious meal and a cold ale.
According to locals, author Steele Rudd (real name Arthur Hoey Davis), who lived in Nobby for a period of time, wrote some of his famous 'Dad 'n' Dave' stories in the Heritage Room.
Nobby is also the home of Sister Elizabeth Kenny who received world recognition for her revolutionary treatment of polio victims. The hotel has a wall devoted to her wonderful work and a key is available for you to visit her memorial.
There is well appointed accommodation on site and free camping for motor homes and caravans across the road.
Location: 45 Tooth Street, Nobby, a 40 minute drive south of Toowoomba
Self-guided Toowoomba historic walks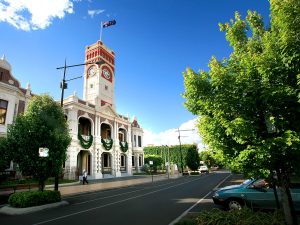 Learn the story of our beautiful heritage city by taking a leisurely stroll around its historic precincts.
Toowoomba Regional Council has eight self-guided historic walks developed by local historians that include detailed maps and informative summaries of each site online.
There are also historical photos and sketches of architectural details.
Walks include the following areas; Queens Park, the CBD (featuring buildings like the art deco Empire Theatre, City Hall and the Court House), the Caledonian Estate near Queens Park (featuring the massive basalt foundations of the original Toowoomba goal), the Mort Estate, Russell Street, Newtown and Drayton (featuring the Bull's Head Inn built by an ex-convict in 1859).
The maps can be found on the Toowoomba Regional Council website. If you would prefer a hard copy, brochures are available at the Toowoomba Visitor Information Centre.
Regional museums and pioneer villages
Learn about the history of towns throughout our region at these local museums and pioneer villages:
For personalised service and tips by friendly knowledgeable locals, be sure to drop into one of the local Visitor Information Centres or give them a call.